Comics Quarantined - Live Stream, Emma Willmann, Matthew Broussard
with
Comics Quarantined - Live Stream
,
Emma Willmann
,
Matthew Broussard
Sat
April 11, 2020
9:00 pm
EDT
EastVille Comedy Club ,
487 Atlantic Avenue, Brooklyn, NY
(
map
)
All Ages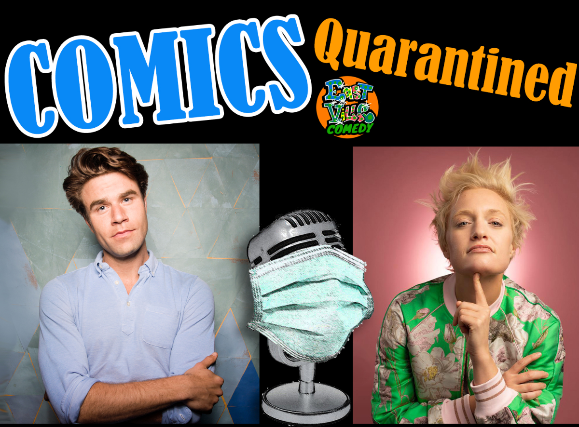 $1.00 - $40.00

EMMA WILLMANN




MATTHEW BROUSSARD

We all could use a laugh now! How are comedians dealing with life during the Coronavirus quarantine?! Each night two different comedians discuss life from their homes via our Zoom Live Stream. Viewers get to randomly interact throughout the show as the comedians monitor your live-streams & comments.
Proceeds benefit Brooklyn covid-19 charities and the EastVille Survival Fund.

*Private access links will be emailed 15 minutes before the live stream.
Comics Quarantined - Live Stream
Emma Willmann
Maine native and Comedy Cellar regular, Emma is one of the top comedians in New York City. Emma made her late night debut on The Late Show with Stephen Colbert in 2016 and has also performed standup on Fuse's Uproarious, Seeso's Night Train with Wyatt Cenac,and The Guest List and AXS TV's Gotham Comedy Live. In 2017, Emma had the opportunity to record a set for the CNN series The History of Comedy. Later this year you can catch Emma on the MTV International talking head series Vidiots and the web series Gay Girl Straight Girl. She has also been active on the acting side, filming an episode of Judd Apatow's Crashing and a recurring arc on the CW's Crazy Ex-Girlfriend. Emma will be filming her first standup special on Netflix this Spring!
In addition to television, Emma has her own comedy show The Check Spot on SiriusXM and is currently the host of the hit podcast Inside The Closet available on Itunes. She also has an upcoming quarter hour special on Netflix coming in Summer 2018.
In 2015, Emma was selected as a New Face at the prestigious Just For Laughs Festival in Montreal. She's also appeared at The Glasgow International Comedy Festival, Houston's Whatever Fest, San Francisco Sketchfest, the SiriusXM South Beach Comedy Festival, the Bridgetown Comedy Festival, the Mardi Gras Comedy Festival in Australia, and the New York Comedy Festival. Emma has also performed at colleges all clubs all over the country.
Emma beat out hundreds of comedians to be named one of the 10 Funniest comics as part of Caroline's New York's Funniest competition in 2014. She's also been named one of the 10 Funniest Woman in NYC by Time Out NY and one of the 100 Woman We Love by GO Magazine. In 2016, Emma was featured in Elle Magazine's Women in Comedy issue.
Matthew Broussard
Born in New Jersey, raised in Atlanta, and, in 2012, winner of Houston's funniest person, Matthew Broussard isn't sure where he's from.
With a career in finance and a degree in mathematics, he makes his brand of playful, smart humor appeal to a broad audience, whether it be colleges, clubs, festivals, or theaters. His comedy relies on his killer timing, subtle wit, and devilish good looks. Also, he's not very witty and his timing could use some work. When his is not working on his popular Web Comic mondaypunday.com he enjoys swimming, using semicolons pretentiously, and bragging about how humble he is.
Despite earning a coveted spot this year on Comedy Central's new series Adam DeVine's House Party after only doing stand-up for 18 months, and booking a principle role in the comedy film Intramural, the first feature film he's ever auditioned for - his Cajun father and Jewish mother still hope he gets an MBA.