Four Comedians & a Bouncer, Patrick Schroeder, Wilfred Padua, Tanael Joachim, Matt Wayne, Welcome Back to EastVille GRAND REOPENING Show
with
Four Comedians & a Bouncer
,
Patrick Schroeder
,
Wilfred Padua
,
Tanael Joachim
,
Matt Wayne
,
Welcome Back to EastVille GRAND REOPENING Show
Mon
October 5, 2020
8:00 pm
EDT
EastVille Comedy Club ,
487 Atlantic Avenue, Brooklyn, NY
(
map
)
All Ages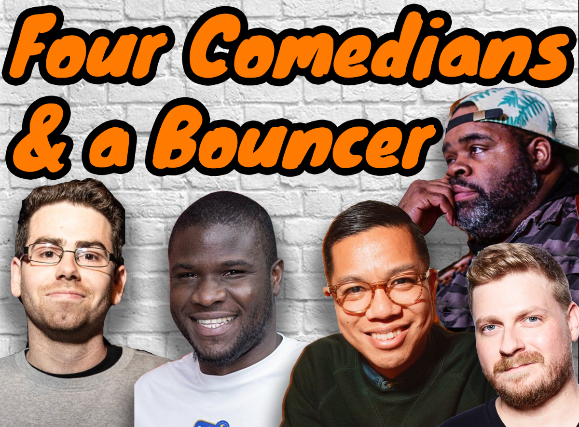 $10.00 - $100.00
Welcome back to EastVille! After 6 months of being closed... we're finally reopening for indoor shows!
*The pandemic hit us hard so... Each Ticket provides: Admission and Donation to The EastVille GoFundMe to help us come back stronger than ever.
*Open at 25% capacity.
*Social distancing safety measures will be employed.

MATT WAYNE
TANAEL JOACHIM
WILFRED PADUA
PATRICK SCHROEDER
and...
DAN FOOTE

Four of EastVille's favorite comics and lovable security guard discuss EastVille, the Coronavirus quarantine, and more. Audience get to randomly interact randomly throughout as the comedians engage them.
Four Comedians & a Bouncer
Patrick Schroeder
Wilfred Padua
Tanael Joachim
Matt Wayne
Welcome Back to EastVille GRAND REOPENING Show